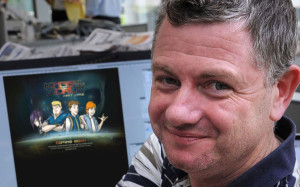 Like the legendary R M Williams, Matt was born in Jamestown in rural South Australia. But that's where the remarkable similarities between these two end. While Reginald went from bushman to world renowned millionaire outback clothing designer, Matt is a complete dag who was lured by the city lights of Adelaide.  Kindergarten in the big smoke was a culture shock, but it is here he first discovered his love of storytelling.
In high school that love found an outlet in a series of completely unflattering cartoons about fellow students and teachers alike. He survived long enough to further his art into a successful career in multimedia design but, like a zombified leech, the lure of the written word gnawed at him, forcing him to pen his first novel, the award-winning sci-fi comedy epic, Kings of the World. It was followed the next year by Amazon Australia dystopian sci-fi best-seller Apocalypse: Diary of a Survivor.
Matt donates part-proceeds of each book sold to find a cure for Rett Syndrome, a neurological condition the youngest of his three children, Abby, has. As a gorgeous Rett angel, Abby cannot walk, talk or use her hands in a meaningful way. So, not only is each of your book purchases a ticket to fantastically rounded, character driven, hilarious and poignant sci-fi awesomeness, it wraps you in a warm feeling that you've made a difference to people who deserve your help the most. Like the zombified leech it's a no-brainer.
As a parent of a child with Rett Syndrome it is difficult to know how to contribute to the cause, beyond staying positive and caring for the needs of your child. The syndrome and its symptoms are complex. I find writing a good escape and my wish is that I find enough success with my passion to help contribute to the greater cause of finding a cure for Rett Syndrome.
I have just released my second book, Apocalypse: Diary of a Survivor, a post-apocalyptic piece set in suburban Australia. In between a couple of short stories and novellas I'm bouncing back to the Kings of the World universe to pen the sequel…. 20,000 words in and the boys are already knee deep in that creek where the paddle supply is limited.
—
Visit Matt's profile on

—
I would like to thank a lot of people who have helped me turn my dream of writing into a reality:
Russell Emerson, Lisa Chant, Anna Pike, Steve Grice, Tom Aldahn, Michael Diggins, Derek Pedley, Kate Kyriacou, Patrick McDonald, Michael Boehm, Sky Harrison, Wayne Bosch, Sharna Halls, The Mutant Stepchildren, Josh Malin, Ben Malin, Cameron England, Tory Shepherd, Jan Pike, Lisa Smith, Rod Savage, Michael Owen-Brown and Tom Loveday.