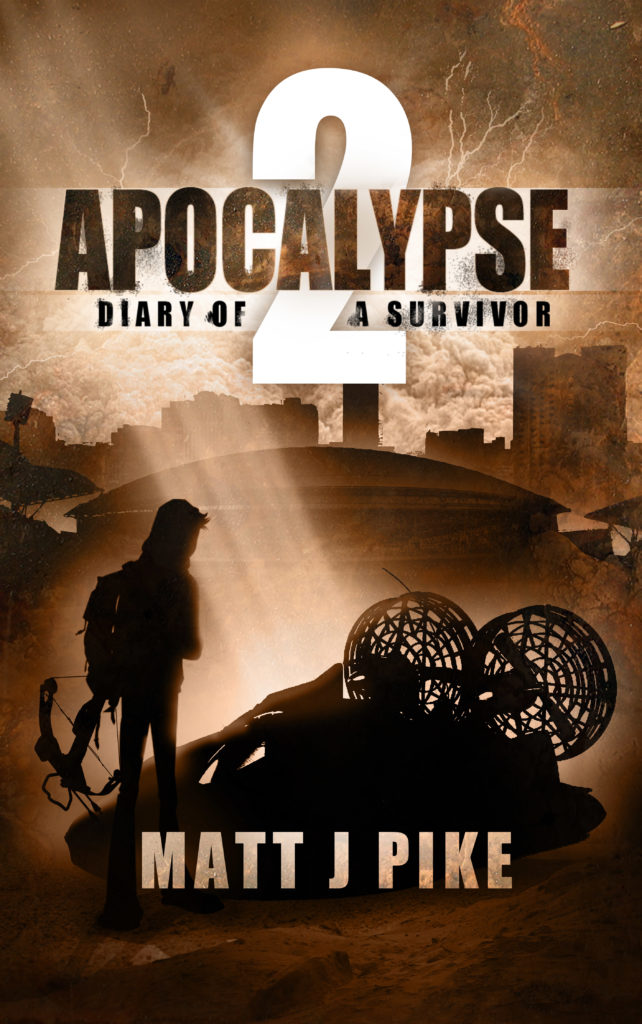 I had the pleasure of heading to my first interstate event recently – Sydney Supanova 2017.  Had such a great time, meeting plenty of new readers, artists, cosplayers and everyone else that makes the event what it is.
It was also the first weekend Apocalypse: Diary of a Survivor 2 was on sale. I've already received some great feedback through reviews on Amazon and Goodreads – a few of which I'd like to share. That's so much for everyone who's supported this indie with a purchase, and doubly so for those who do take the time to rate and review my work – it's those few moments of sharing your thoughts that add up to a lot – a real stamp of support for my work, which helps encourage other readers to discover my books. Thanks again!
*
I've been anticipating this sequel since the moment I finished reading book 1 in this series, and I was not disappointed (now eagerly awaiting book 3)!
Diary of a Survivor 2 picks up shortly after where it left off at the end of the first book, which was a heartbreaking ending. Jack has learned a bitter lesson, and it's clear that he's done a lot of growing up. He's grittier, and more cautious, though just as smart as ever.
Potential spoilers
Matt Pike does a beautiful job of conveying Jack's emotions, and I felt almost as heartbroken as him whenever he thinks of Fi. Yet, in order to survive, he must continue to be resourceful and brave and move on. Not easy, though Jack's pain seems to lessen a bit over time, and he takes some steps when he can to work through his grief (over what he lost even just after the apocalyptic event).
His world has expanded, out of necessity. Jack knows he can't keep living in the house he grew up in—too many people are poking around, and the food in the area won't last forever. Plus after his tragedy, Jack feels the need to connect with people he knew in his old life.
He has far fewer light moments, and he doesn't play games as much, but he still manages to be a teenager. He even gets to role play a bit, when he tries to find out what happened to his family friends. (Maybe his games have moved into the real world?) And he keeps coming up with great ideas (though some are risky) that in the long run could improve his life.
The author manages to deftly weave together the intense survival moments with the mundane moments that come with living in a post-apocalyptic world (fighting over food, but having no easy entertainment). There are also a few bittersweet moments, such as when Jack looks through old photos of his family, remembering both the good and bad moments.
Through it all Jack emerges as a leader. He learns the importance of alliances, and how to think strategically. Still, life is all about change, and situations can change very quickly in a post-apocalyptic world. Jack learns another hard lesson. I love this quote, which sums up Jack's world beautifully:
"This world never fails to surprise. Just when you settle on a path forward, something new gets thrown in to the mix to make you question everything, or shove you in a totally different direction, or just plan mess with you."
Matt Pike is a wonderful writer, able to take his readers on very emotional journeys with complex characters. He's one of my favorite writers, and I can't wait to read whatever he writes next.
*
A perfect follow on from the first book. Once again so easy to immerse yourself in the world that is being painted around you. It's very easy to get caught up in the emotions of characters in the book, I grieved when they grieved, feared when they feared and celebrated when they celebrated. I loved the tales told and was lost to another world whilst reading and am left pondering the unspoken future of the characters. An obviously well researched, and well written book. If tales of the apocalypse and dystopian world survival are your thing then this is the book for you.
*
Very good series. This book is even better than the first. The author brilliantly tells the story of a more probable not to far fetched apocalyptic scenerio. Using a first person point of view and just normal everyday people
*
WOW! Riveting, page turner and couldn't put it down to sleep! This is as good as the first book in the series,,,, or maybe even better. It was an experience of entering this post apocalyptic world through the gateway of a book and when exiting expecting to be surrounded by ash in my own world. Thank you for the story and I am excitedly waiting for the next instalment!
*