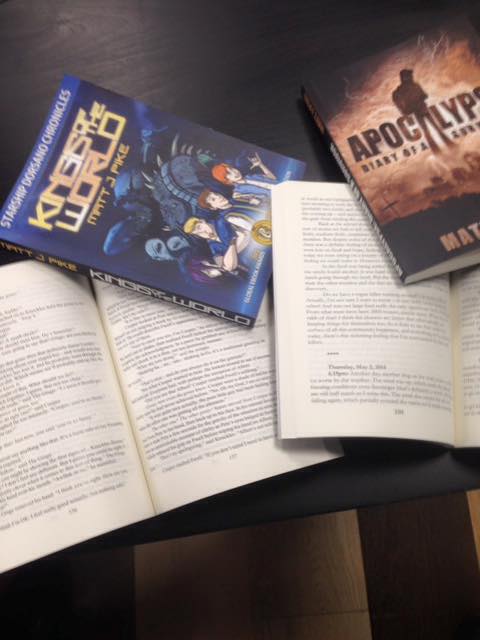 I just want to thank everyone who contributed to the crowdfunding campaign that saw print versions of Apocalypse: Diary of a Survivor and Kings of the World come to life.
While it's fair to say things haven't gone entirely to plan (more about that some time soon), holding print versions of my work was a very satisfying moment. Selling them directly to customers for the first time at Adelaide Supanova 2016, equally so. I've definitely started something I want to do more of! In fact, work has begun on producing a smaller print run of the Zombie RiZing series, which will be ready for Adelaide ComicCon, April 2017.
Print has also opened up a much wider readership for my work, as not everyone is an ebook fan. As for the feedback that has already come in from those who have finished the print version, well, it's been overwhelmingly positive and a massive motivator to keep doing this thing I love.
So, thank you to all contributors – forever grateful. If I haven't been in touch  about your reward, I will be soon.
BRONZE
Lisa Chant, Rannveig Marie Eide, Bel Giles, Louise Treccasi
SILVER
Brendon McKinley, Morne de Klerk, Trudy Virgo, Raymond Hirst, Leila Auld, Sabrina Ricci, Michael Owen-Brown, Tara Hancock,
Sarah Kipling, Bob and Marilyn Pike, Michael Boehm, Lauren Rose,
Lisa Hall, Lucinda Munro, Rachel Salisbury, Cheryl Edwards, Dan Lato, Lisa McIlwaine Woolford, Kirsty Grant, Cara Jenkin,
Spud and Helen Lovegrove
GOLD
Chris Bowden, Lisa Smith, Christian Trigg, Anthony Keane, Anna Pike, Neroli Hutchinson, Antimo Iannella, Deb White, Jo McDougall,
Rod Waters, Elisa Black, Sharna Halls, Darren DeBono
GOLD PLUS
Rod Savage, Cathy and Rodney Ramsey, Bret Fisher, Pam Maxwell, Carolyn Dominic, Anne Kelly, Angelo Iannella
PLATINUM
Lynne & Garry Mechan, John Tugwell, Sam Kramer,
Dannielle McBeath, Victoria Bickford-Johnson
DIAMOND
Dan Demaria, Ken Herd
DIAMOND PLUS
John and Jenny Pike, Joyce Pike, Jan Pike