Apocalypse: Diary of a Survivor series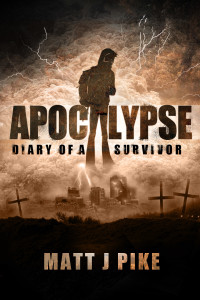 Apocalypse: Diary of a Survivor 1
BUY NOW:
PRINT:
Get signed copies on my Etsy page
*
Ebook
Amazon US  |  Amazon UK  |  Amazon Aus
 
"I guess it was inevitable – the end of the world we know – the end of humanity.
Finding out early was a gift, surviving impact night was a miracle, living to tell the tale, well, that was the price I will pay, forever.
There's no going back now."
Award winning author*, Matt Pike, takes you on a journey to the end of the world and beyond, as told through the eyes of an Australian teenager, who records his experiences day by day in a survival diary. From the social chaos in suburban Adelaide in the lead-up, a night of total global catastrophe and the aftershocks as community and humanity crumble around him – the world changes forever. What's left is a place where the conditions can kill you just as easily as the other survivors.
Everything our teenager relied upon for survival in the pre-disaster world falls apart – utilities, community, environment – the only things that can keep him alive are his resources and resourcefulness.
*2013 Global Ebook Awards: Gold Medal – Teen Literature Fiction for Kings of the World
***
5 stars
Digital Pubbing
Sabrina Ricci
http://www.digitalpubbing.com/ebook-review-apocalypse-diary-of-a-survivor/
***
5 stars
Indie Bookworm Ebook Reviews
http://indie-bookworm.blogspot.co.uk/2014/09/apocalypse-diary-of-survivor-by-matt-j.html
***
4 stars
Underground Book Reviews
http://www.undergroundbookreviews.com/magazine/review-of-apocalypse-diary-of-a-survivor-by-matt-pike
*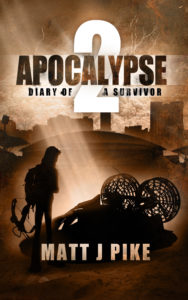 Apocalypse: Diary of a Survivor 2
BUY NOW:
PRINT:
Get signed copies on my Etsy page
*
Ebook
*
"I thought I had already seen the best and worst of humanity. But I was wrong."
When a rogue comet smashed into Earth, Jack Baldwin's life changed forever. In a single night of carnage, the vast majority of the world's population was obliterated, while those who survived were all but sent back to the Stone Age. The lucky ones? They don't necessarily see it that way. Especially Jack, whose dreams of a happily ever after – well as happily ever after as Armageddon gets – were shattered in a senseless act of violence. With everything and everyone he fought to build and protect now gone, Jack is left truly and utterly alone. And with food supplies growing ever scarcer, and fellow survivors getting more desperate and aggressive by the day, it's going to be a long way back from the brink. Can Jack find himself again, find new purpose and carve out a way forward? Maybe. But first he's going to have to ask himself the biggest question of all: Why?
*
REVIEWS:
"I've been anticipating this sequel since the moment I finished reading book 1 in this series, and I was not disappointed (now eagerly awaiting book 3)!
Diary of a Survivor 2 picks up shortly after where it left off at the end of the first book, which was a heartbreaking ending. Jack has learned a bitter lesson, and it's clear that he's done a lot of growing up. He's grittier, and more cautious, though just as smart as ever.
…Matt Pike is a wonderful writer, able to take his readers on very emotional journeys with complex characters. He's one of my favorite writers, and I can't wait to read whatever he writes next."
DigitalPubbing.com
"A perfect follow on from the first book. Once again so easy to immerse yourself in the world that is being painted around you. It's very easy to get caught up in the emotions of characters in the book, I grieved when they grieved, feared when they feared and celebrated when they celebrated. I loved the tales told and was lost to another world whilst reading and am left pondering the unspoken future of the characters. An obviously well researched, and well written book. If tales of the apocalypse and dystopian world survival are your thing then this is the book for you."
Goodreads reviewer