Warning
: simplexml_load_string() [
function.simplexml-load-string
]: Entity: line 1: parser error : Start tag expected, '<' not found in
/home3/dug/public_html/mattpike/wp2/wp-content/plugins/amazon-product-in-a-post-plugin/inc/amazon-product-in-a-post-aws-signed-request.php
on line
1239
Warning
: simplexml_load_string() [
function.simplexml-load-string
]: Couldn't resolve host 'webservices.amazon.' in
/home3/dug/public_html/mattpike/wp2/wp-content/plugins/amazon-product-in-a-post-plugin/inc/amazon-product-in-a-post-aws-signed-request.php
on line
1239
Warning
: simplexml_load_string() [
function.simplexml-load-string
]: ^ in
/home3/dug/public_html/mattpike/wp2/wp-content/plugins/amazon-product-in-a-post-plugin/inc/amazon-product-in-a-post-aws-signed-request.php
on line
1239
Zombie RiZing is here! Beath and her band of misfit friends need to do whatever they can to survive zombies, monsters, giants and more. I've teamed up with legendary illustrator Steve Grice to bring the books to life visually, while the uber-talented Justin Braine will be narrating the series (I've had a sneak peek – awesome!). Thanks too for the awesome editing skills of Lisa Chant.
Season one of Zombie Rizing, will consist of six books ,with a new instalment available every couple of months.
The series itself is planned across five seasons, thirty books in total.
*
BUY NOW:
PRINT:
*
*
EBOOK: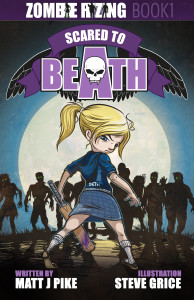 "An absolute metric ton of fast paced action and punchy dialogue"
"brilliant artwork"
"tons of originality and a brilliant character cast"
Full review at Read It Daddy
**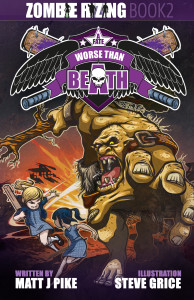 OUT NOW :Zombie RiZing 2: A Fate Worse than Beath
"Entertaining, action-packed, humorous, creative, apocalyptic story"
*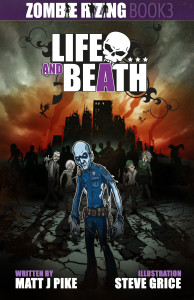 If Beath and the gang thought life in the school had been hard in the weeks since the riZIng, well, let's just say they ain't seen nothing yet. If only they had the resources to stay safe and secure in (Dec) East High, but they don't and now the big wide zombie-ridden, scary, monster-lurking world awaits.
*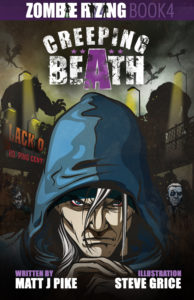 ZR 4: Creeping Beath
As the gang head deeper into the Zombie RiZing, the salvation of the shopping centre awaits – food, supplies, weapons – everything they could need for their future survival. The only problem is, when we say salvation, we could actually mean another level of monster-plagued, bad-guy-laden, lair of despair.
Beath and her magic-wielding friends are about to cross paths with fellow survivor Karl Dreeks, and if they've learned one thing in the RiZing, it's that you can trust the fellow survivors about as much as you can the monsters.
Oh, speaking of which, did we mention the new breed of monsters? We didn't? That seems like an oversight, as these new bad boys can fly!
So, when we say salvation, it could just be code for things are about to get a whole lot worse!
*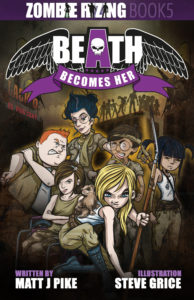 ZR5: Beath Becomes Her
Beath and the gang are trapped inside the Black Oaks Shopping Centre with a crazy warlock called Dreeks and a menagerie of malevolent monsters. The good news is… wait, there's no good news. The gang just need to stick together, use their cunning, magic and fighting skills to survive and find a way home.
When they decide to split up… wait, seriously, they split up? Haven't they ever seen a horror movie? You need to stick together! It's, like, survival 101!
This isn't going to end well, is it?
*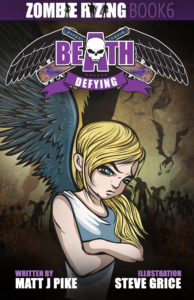 ZR6: Beath Defying
Hungry zombies, angry giants, flying monsters and an evil madman who wants to serve them buffet-style to his army of undead drones. Sounds like fun, right?
The thrilling sixth instalment in Matt Pike's award-winning Zombie Rizing series
Beath and her brave band of young warriors are pretty much living the phrase 'things couldn't get any worse'*. Trapped inside a shopping centre, they face an uphill battle for survival as evil mastermind Karl Dreeks and his horde of horrors stalk them through the shops … and not because they want to say hello. To the outside eye, things look pretty grim, but when Beath and Ms Simmons finally manifest their powers, boosting the gang to full magical strength, Dreeks comes to realise he might finally have met his match. Game on.
*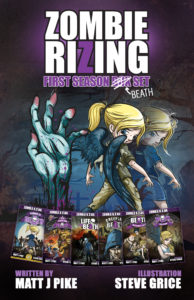 Zombie RiZing Season 1: The Complete Beath Box Set
Most kids will tell you that school is a living nightmare. But for Elizabeth and her gang of East High outcasts and misfits, the complaint is all too real. Since zombies first rose from the earth on an otherwise ordinary day, the world as they know it has collapsed, leaving humankind as an endangered species. Facing a dark magic as old as time, the gang must survive hour by hour as they battle an ever-worsening array of monsters for food, safety, friendship … even life itself. And as if that's not bad enough, boy wonder Sonny – and we do use that term very liberally – has proven himself to be such a toxic farter he's almost a lethal weapon in himself. But things aren't all bad. The same evil forces that are powering the Zombie Rising are also changing the humans left behind, giving them the kind of powers that once existed only in superhero movies. Suddenly, the fight doesn't seem quite so lopsided. Evil – get ready to have your ass kicked!
For the first time ever, enjoy the award-winning first season of Zombie Rizing all in one volume. Think gore, action, adventure, gore, scares, laughs and, of course, gore. Don't say we didn't warn you.
*