Warning
: simplexml_load_string() [
function.simplexml-load-string
]: Entity: line 1: parser error : Start tag expected, '<' not found in
/home3/dug/public_html/mattpike/wp2/wp-content/plugins/amazon-product-in-a-post-plugin/inc/amazon-product-in-a-post-aws-signed-request.php
on line
1239
Warning
: simplexml_load_string() [
function.simplexml-load-string
]: Couldn't resolve host 'webservices.amazon.' in
/home3/dug/public_html/mattpike/wp2/wp-content/plugins/amazon-product-in-a-post-plugin/inc/amazon-product-in-a-post-aws-signed-request.php
on line
1239
Warning
: simplexml_load_string() [
function.simplexml-load-string
]: ^ in
/home3/dug/public_html/mattpike/wp2/wp-content/plugins/amazon-product-in-a-post-plugin/inc/amazon-product-in-a-post-aws-signed-request.php
on line
1239
After months of planning and development, the first books in the awesome new Zombie RiZing adventure series are hitting the shelves at Amazon.
The series follows Beath and her band of misfit friends as they try to survive zombies, monsters, giants and more. I've teamed up with legendary illustrator Steve Grice to bring the books to life visually, while the uber-talented Justin Braine will be narrating the series (I've had a sneak peek – awesome!). Thanks too for the awesome editing skills of Lisa Chant.
Season one of Zombie Rizing, will consist of six books ,with a new instalment available every couple of months.
The series itself is planned across five seasons, thirty books in total.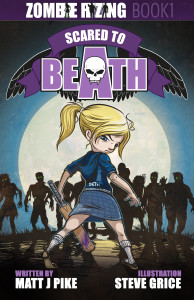 "An absolute metric ton of fast paced action and punchy dialogue"
"brilliant artwork"
"tons of originality and a brilliant character cast"
Full review at Read It Daddy
**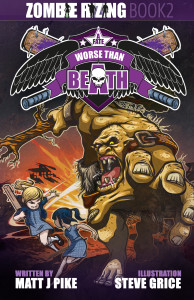 OUT NOW :Zombie RiZing 2: A Fate Worse than Beath
"Entertaining, action-packed, humorous, creative, apocalyptic story"
*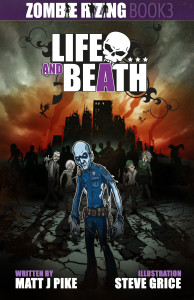 If Beath and the gang thought life in the school had been hard in the weeks since the riZIng, well, let's just say they ain't seen nothing yet. If only they had the resources to stay safe and secure in (Dec) East High, but they don't and now the big wide zombie-ridden, scary, monster-lurking world awaits.
*
ZR 4: Creeping Beath
June 23
*
 ZR5: Beath Becomes Her
August 28
*
ZR6: Beath Defying
October 31